A simple search on Google reveals that there are many definitions for the term "energy efficiency."  To us, this term means that we will use less energy to achieve the same function at the same level of performance. This page will document the ways in which we are attempting to bring energy efficiency to our home.
The US Department of Energy provides the following breakdown of residential energy use (source):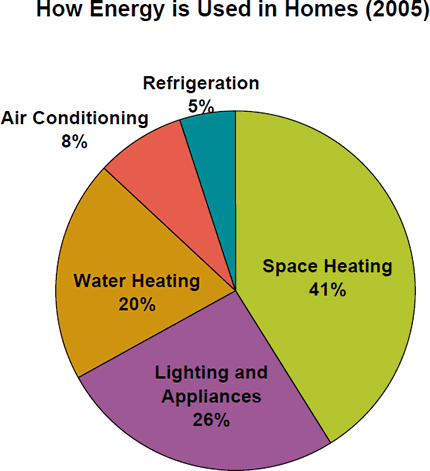 In Wisconsin, our numbers are a bit different, mainly due to climate. An annual breakdown of energy costs in Wisconsin (source) finds the following:
| | |
| --- | --- |
| Energy Use | % of total cost |
| Heating and cooling | 52% |
| Water heating | 23% |
| Appliances | 13% |
| Lighting | 7% |
| Other | 5% |
Heating and Cooling
With heating and cooling accounting for more than half of the annual average energy cost, it is no surprise that many of the "Wisconsin Energy Star Homes" requirements are measures to make a space heating system more efficient.
Wisconsin is a heating-dominated climate, with an average of 7000-8000 heating degree days and 500-800 cooling degree days per year. (source)
In our home, we seek to reduce our energy consumption related to space heating:
Water Heating
In Wisconsin, 23% of our energy costs go down the drain... literally. The heat put into the water for showers, laundry, and dishwashing is lost when you're done with that water. In addition to lifestyle choices and practical methods, for example only running the dishwasher when it is full, we are incorporating the following technologies into the home for further savings:
Appliances
Lighting
In our previous house, we replaced most incandescent bulbs with compact fluorescent bulbs and in the year following, our consumption of electricity was down about 10%. In this new house, we are taking several measures to reduce energy use for lighting:
Tags: